Euromed Management Business School
Get Ready to love your future!

Are you a student looking for a top ranked International M.Sc. degree?
Easy. The International M.Sc. in Management is a unique top degree opportunity offered for international students by Euromed Management. Created in 1872, Euromed Management nowadays belongs to one of the highest ranked schools of Management in France and in Europe.

What is so unique about Euromed Management Business School?



Euromed Management is truly International!

This September, Euromed Management opened doors to more than 500 international students from 36 countries around the world. Throughout the Orientation week Euromed Management organized constant meetings of students with banks, insurance agents, phone companies, IT assistants, and student organizations to make their student life in France as smooth and enjoyable as possible.

Marseille: situated in the student-friendly area next to famous mountains and creeks, our business school is at a fast reach to the legendary city of Marseille, which is a business and entertainment hotspot of the Southern France. Staying in Marseille, you have an easy access to 22 European countries, making your experience here truly international.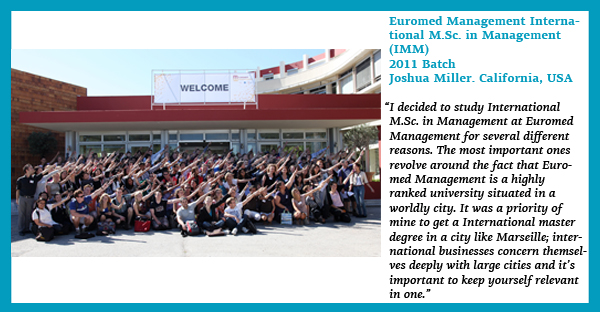 Why do students worldwide chose to obtain M.Sc. Degree through IMM program at Euromed Management Business School?
When investing in IMM Program, you are making a solid step to kick start your professional life and build a strong network of professional contacts.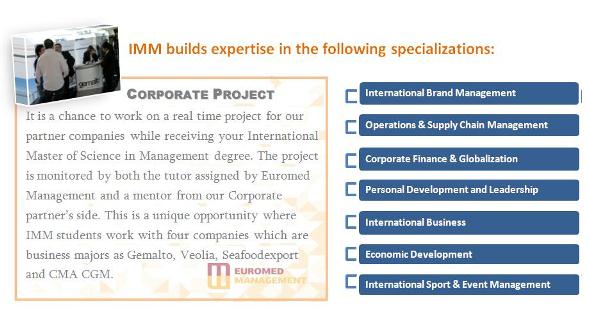 As an IMM student you also benefit from:

Pro-Act

.

A professional Project in Action (Pro-Act) is another opportunity to develop your personal and managerial competencies by creating your own project, which is a concept unique to Euromed Management and was highly appreciated by our AACSB and EQUIS auditors.

Personal and Career Development.

Over the year you would develop with the support of: CV building sessions, Professional Coaching, Language skills, Career Counseling, and Professional Assistance in finding internships and jobs.



Video message from Academic Coordinator of Graduate Programs :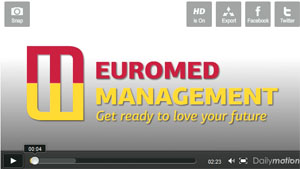 Get ready to love your Future.

Euromed Management Business School is where you build it!

If you wish to deactivate this service click, suivre ce lien
Source:
http://www.euromed-marseille.com/en